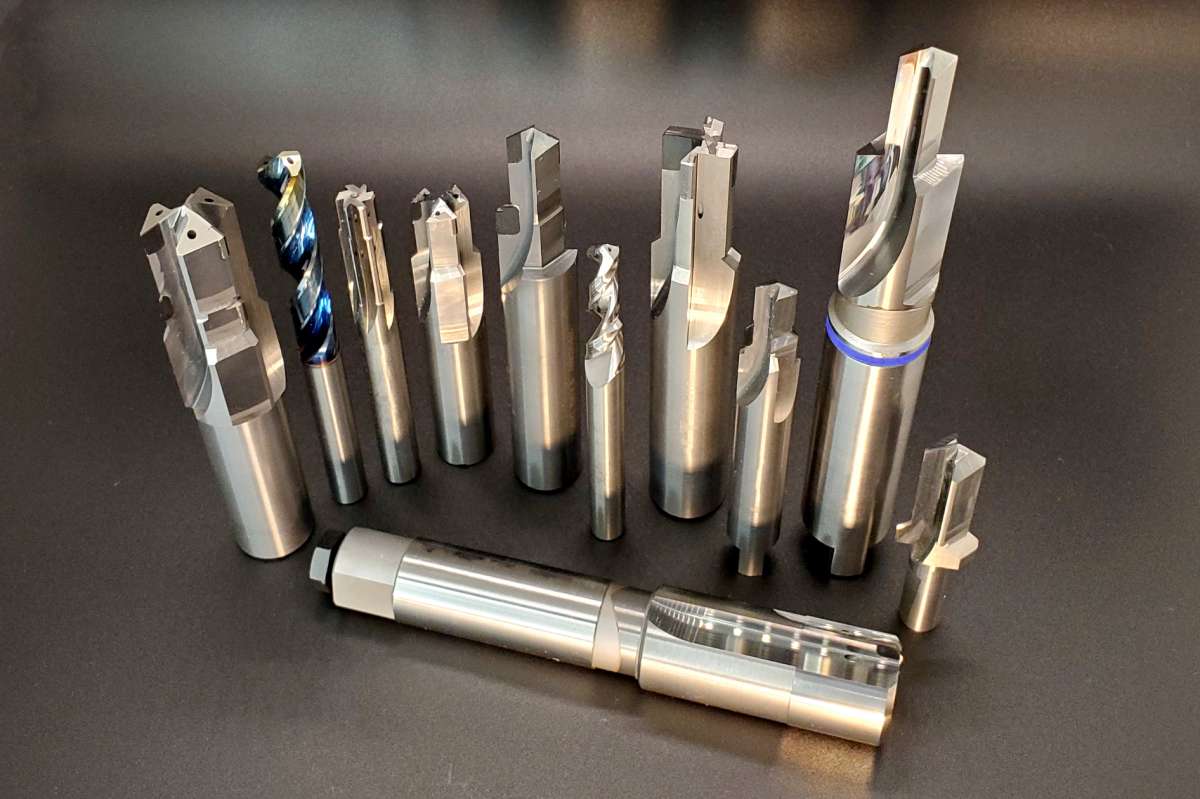 Accuromm USA manufactures PCD (Polycrystalline Diamond) tools for high speed aluminum machining, which reduces machining time drastically. We produce PCD cutting tools, PCD end mills, PCD drills and PCD reamers covering multiple applications, along with aluminum machining strategies to drastically shorten cycle times and increase productivity. Accuromm is a leading manufacturerof PCD tools. We produce PCD tools engineered to last longer and work harder all while lowering your cost per hole. Accuromm excels at manufacturing high-tolerance and hard-to-produce cutting tools. We have the equipment and experience to design, manufacture and regrind tooling for a wide variety of applications. Our rigorous quality standards allow us to meet even the most demanding of specifications.
Polished PCD helps prevent material buildup on the cutting surface, which improves tool performance due to less heat generating in the cut. If you are considering using PCD tooling or if you have any questions concerning the feasibility of using polycrystalline diamond tooling, you can count on the Accuromm tooling experts to provide the guidance and knowledge to solve your most difficult machining applications.
Most of the components used for modern aircraft and helicopters consist of aluminum alloys, composite materials or combinations of these materials. When machining aviation components, the main focus is on process reliability. Accuromm PCD tools meet this requirement and have impressively long tool life, producing the best machining results.
Some PCD tools possess the durability to handle a much wider range of applications. As the utilization of aluminum-based parts continues to grow, particularly in automotive manufacturing, the performance of PCD tooling has become a more significant issue. This has produced strong, recent growth in the worldwide market for PCD tools. Accuromm USA offers the most valuable PCD technologies in the industry to exceed customer objectives in terms of precision, high-performance, reliability and return-on-investment.
Benefits of Accuromm PCD tools:
• Dramatically reduces your tooling costs
• Harder cutting edge provides higher resistance to wear
• Highly resistant to wear
• Delivers a significantly improved edge finish
• Cuts thousands of feet more than carbide without changing tool, saving setup time
• Optimizes router efficiency
• Significantly improves quality of finish
PCD tools can be cost-effective over their life because they typically last a long time and they can be reground over and over. Accuromm utilizes the latest equipment for producing PCD tools. PCD is used for different types of applications such as turning, milling and grooving. PCD is a very durable choice for machining materials including non-ferrous metals such as aluminum, brass, gold, silver and wear-resistant non-metallics like wood, ceramics, graphite, nylon, carbon fiber and plastics.
Accuromm USA PCD tools will get the job done, whether you're cutting composite materials or non-ferrous materials, and will help you handle anything from delamination to uncut fibers. Accuromm works with the aerospace, automotive, medical and manufacturing industries. Not only do we serve clients throughout the United States, but world-wide.
If you have any questions about our PCD tools, don't hesitate to contact us at www.accuromm.com.