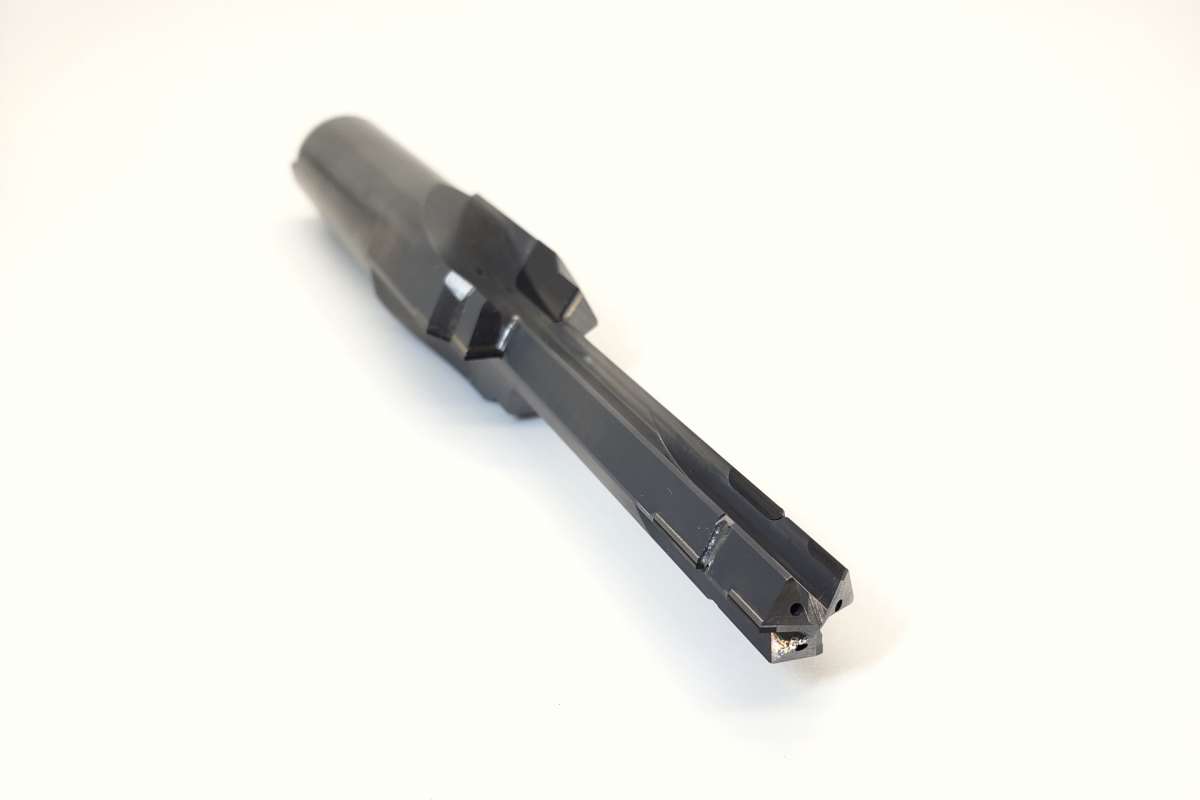 Accuromm USA PCD reamers are a custom-engineered solution specifically designed for each customer application. Accuromm designs various types of tools by fully utilizing our extensive experience, advanced machining technology and high-level quality control. Accuromm PCD reamers run at fast speeds, maximize productivity, while sustaining sharpness integrity throughout the entire tool life. Our rigorous quality standards assure that our PCD precision reamers attain optimum concentricity, straightness, and bore location. All Accuromm tools are manufactured specifically to meet custom design requirements.
Accuromm PCD reamers feature high processing precision, high processing efficiency, high abrasive resistance and strong toughness. Our PCD reamers can realize high-speed cutting and hard materials cutting. They have a very long use life which is over 10 times that of the average carbide reamer. Our PCD reamers are designed and manufactured in-house by Accuromm USA for machining in the fields of precision mechanics, automotive sector, aeronautics/aerospace, energy, medical and more.
Reaming applications can be intricate and complex, so your choice of cutting tool is critical. Accuromm PCD reamers deliver the highest possible accuracy. These tools can cut abrasive non-metallic and non-ferrous metals at high speeds with high resistance to abrasion in every direction. Accuromm PCD reamers are used in cutting aluminum, brass, copper, graphite and other materials like wood, plastic and carbon-fiber-reinforced polymer.
Accuromm PCD reamers are customized to fit exact measurement specifications. Advantages of Accuromm PCD reamers are:
• Fewer process steps
• Optimal coolant delivery to the cutting edges
• They facilitate fast clamping
• Longer tool life
• Fewer tool changes
• Tool costs significantly reduced
• Higher machining efficiency
• Higher cutting speed
• Better surface finish quality
• Improved workpiece quality
• Lower machine downtime
The automotive industry uses PCD tooling for machining most of their non-ferrous parts such as engines, transmissions, wheels, brakes, etc. In Aerospace, exotic materials demand fine-tuned cutting tools at the highest level of technology. There is an endless variety of different parts in the hydraulic industry. Typically they feature multiple bore configurations and difficult to access contours, calling for intricate tool designs. The need for conserving energy also puts special demands on machining electric motors, generators, compressors and pneumatic components.
Accuromm USA, Inc. was established in 1989 and began production in December of the following year. Combined with our parent company Fuji Seiko LTD of Japan, we bring more than 60 years of experience in the metal cutting fields to every assignment. With our world-wide network of sister companies, we are large enough to fill complex orders, yet flexible enough to turn around an order in weeks - even days. Accuromm USA and Fuji Seiko LTD are world leaders in total tooling manufacturing. We not only design PCD reamers, but we also manufacture drills and related products for the use in machining engines, drivetrains, transmissions, brakes, and other applications, primarily in the automotive and small engine industry. Our consistent effort to design and produce more efficient tooling systems has paved the way to excellent customer relations.
Accuromm USA is a well-known PCD reamer manufacturer and supplier, headquartered in Lexington, Kentucky. For more information, contact us at sales@accuromm.com.