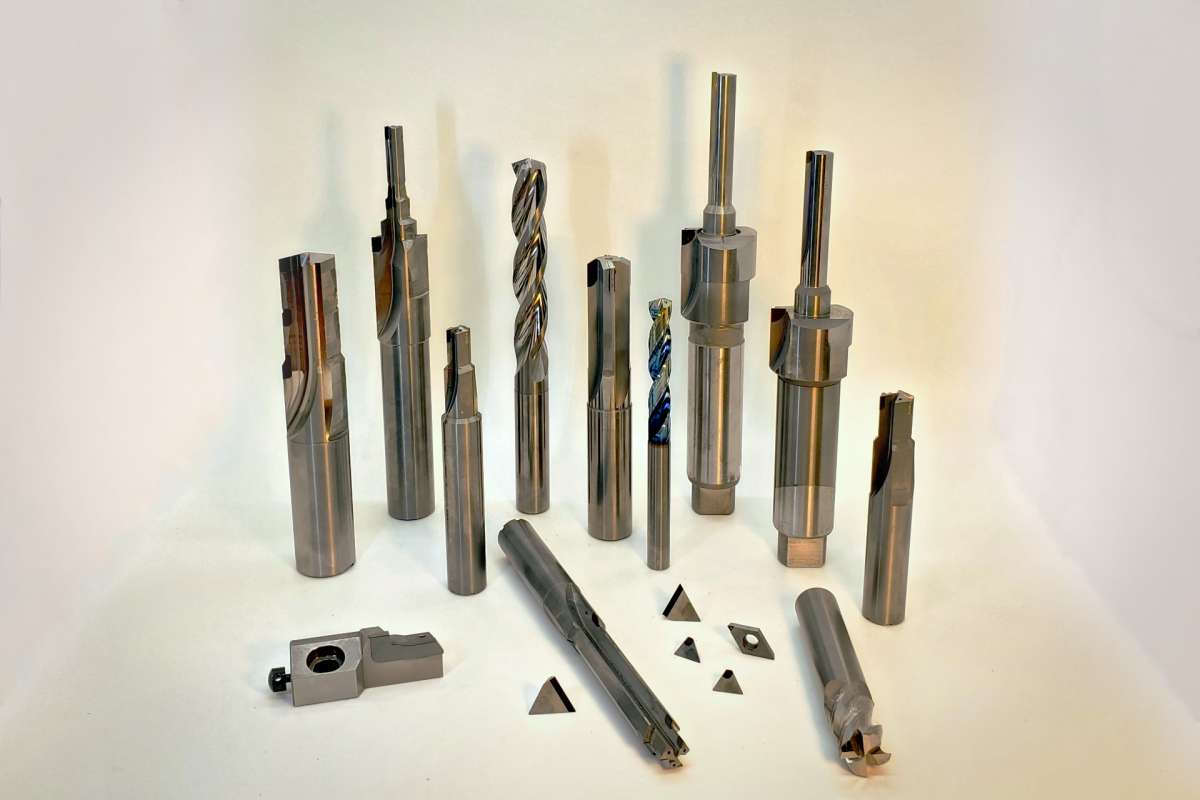 At Accuromm USA, we are specialists in producing high quality and cost-effective cutting tools, including PCD inserts. Accuromm was founded in Lexington, Kentucky just 15 miles to the south of Toyota Motors' first manufacturing facility established in the United States. This facility offered Accuromm USA the foundation to begin its business in the United States. Of course, Accuromm combined with our parent company, Fuji Seiko Ltd. of Japan, supports many other customers in the US other than Toyota Motor, but Japanese transplant company business is a large portion of our business in the United States. Together, Accuromm USA and Fuji Seiko LTD bring more than 60 years of experience in the metal cutting fields to every assignment.
Accuromm inserts are available in two cutting materials:
• PCD inserts (Polycrystalline diamonds) – made of diamond particles sintered together with the help of a metallic binder.
• PCBN inserts – (Polycrystalline Cubic Boron Nitride) - high-performance tool material made from a polycrystalline mass that like PCD is produced in a high temperature-pressure process.
PCD is the hardest man-made material, which is known for its superb hardness and high wear resistance. Accuromm PCD inserts are induction brazed utilizing a controlled heating process. Accuromm PCD inserts ensure long tool life due to high hardness, and stable machining due to high thermal conductivity. You can machine at high cutting speed, which increases machining productivity. Even at high speed, the inserts reduce built-up edge and allow high-precision machining.
PCD tooling was developed over 40 years ago. It is now commonly used across a wide range of machining and cutting processes in various industry sectors
The main features of Accuromm PCD inserts are:
• Very hard
• Good thermal conductivity
• High-wear resistance
• High precision
• Excellent for high speed cutting
PCD Inserts are still the best choice for resurfacing aluminum. Because of the unique metallurgy of aluminum and the chemical interaction present with heat, CBN does not give the appropriate surface finish that PCD can provide.
Remember to clean all tooling thoroughly before installing a new PCD insert. Metal chips, debris or dirt can cause the insert to become misaligned in the tool holder and possibly damage the insert or the work piece. When the cutting edge of the insert becomes dull, simply rotate the PCD until a new cutting edge is presented.
Accuromm PCD inserts are extremely cost-effective when properly applied to non-ferrous machining applications. Accuromm PCD inserts can be both manufactured to all standard ANSI (American National Standards Institute) and ISO (International Organization for Standardization specifications or made to custom specifications. Today, PCD inserts are the common choice for production machining to achieve predictable tool life and the best surface finish.
Whether you need reliable cutting tool advice for a new application or want to explore another tooling option for a recurring project, Accuromm can help you with optimizing your machining process. All available PCD grades are utilized and chosen for the correct application by Accuromm. Our PCD inserts allow for the fastest cycle times compared to any other cutting tool material available on the market. Due to this, you can operate your machines at optimum efficiency.
PCD cutting edges extend tool life, reduce scrap and minimizes tool offsets and adjustments. Accuromm PCD inserts improve workpiece quality with tight dimensional control and excellent surface finishes. With our world-wide network of sister companies, Accuromm USA is large enough to fill complex orders, yet flexible enough to turn around an order in weeks – even days.
For more information, contact us at sales@accuromm.com.