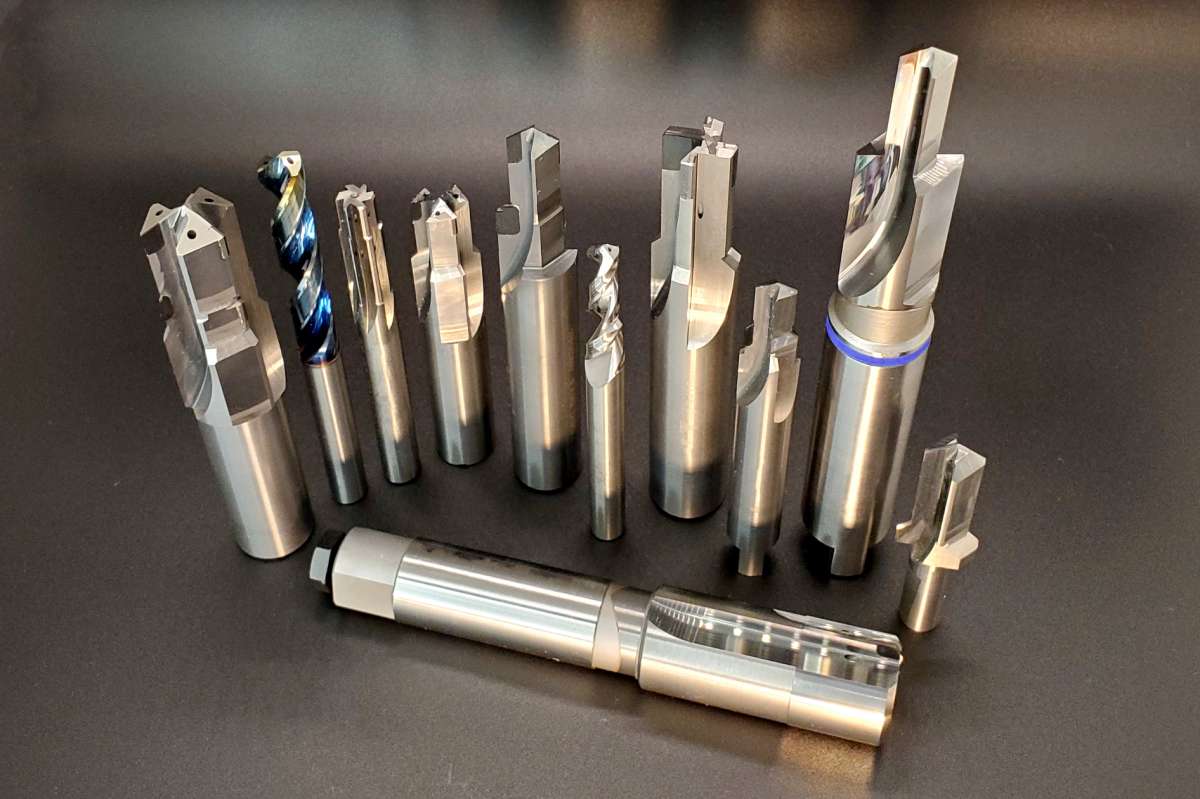 Because of our expertise, Accuromm USA can advise you what the best PCD drills for your needs, as well as their tool efficiency and yield. Accuromm produces a wide range of PCD drills and other round tools for rough and finish cuts. Our PCD cutting tools are mainly used for drilling aluminum, magnesium, wood, plastics, CFRP, GRP materials and more. Our PCD drills show excellent wear-resistant properties when machining highly abrasive materials. Accuromm PCD drills have an extremely long tool life compared to traditional carbide drills. Among the wide diversity of materials and drilling applications.
Accuromm has PCD drills and can manufacture any type of specialty holder to fit PCD drills, reamers, or whatever tooling is needed. We would love to work with you on your next project to specially design tooling and most commonly nowadays PCD-tipped drills and PCD tooling for your specific requirements.
Accuromm PCD drills are designed for challenging applications and tough, abrasive materials. Supporting ultra-high machining speeds, these PCD drills deliver the highest possible precision, while maintaining repeatable consistency and process reliability. Our drills provide consistent high-performance, rigidity and flexibility on abrasive non-metallic and non-ferrous metals. We manufacture PCD drills or other tools for carbon fiber and fiberglass.
Accuromm PCD drills provide:
• High process reliability
• High centering accuracy
• Great stability
• Maximum tool life
• High wear resistance
• Highest average speeds
• Short processing time
Accuromm USA and parent company Fuji Seiko LTD have decades of experience in designing and manufacturing customized PCD drills to support leading manufacturers with consultation, design assist and machining. Our PCD drills are designed and manufactured in-house for machining in the fields of precision mechanics, automotive sector, aeronautics/aerospace, energy and more. PCD drills allow for faster feed rates, prolonged tool life, and increased material removal rates, thus saving you money. Tighter tolerances and quality surface finishes demand a more productive tool and Accuromm delivers. PCD drills can rough & finish at a much higher feed rate and still maintain a longer life than solid carbide options. Accuromm PCD drills allow processing a variety of materials.
Accuromm is a premier manufacturer of PCD drills and custom-engineered cutting tools. We not only design and manufacture PCD drills, but we also design and manufacture reamers and related products for use in machining engines, drivetrains, transmissions, brakes, and other applications, primarily in the automotive and small engine industry. Accuromm routinely meets or exceeds customer demands by employing the best tool design & engineering possible, then streamlining methodologies in order to produce cost-effective PCD drills. Accuromm is unique from the standpoint that a high percentage of our work is based on our analytical and engineering design capabilities that exceed industry benchmarks.
We manufacture PCD drills that can be used in a variety of applications and materials. Our consistent effort to design and produce more efficient tooling systems has paved the way to excellent customer relations. If you are looking for the best quality and highly functional PCD drills in the market at an affordable price, then Accuromm is the solution. For more information, contact us at sales@accuromm.com.