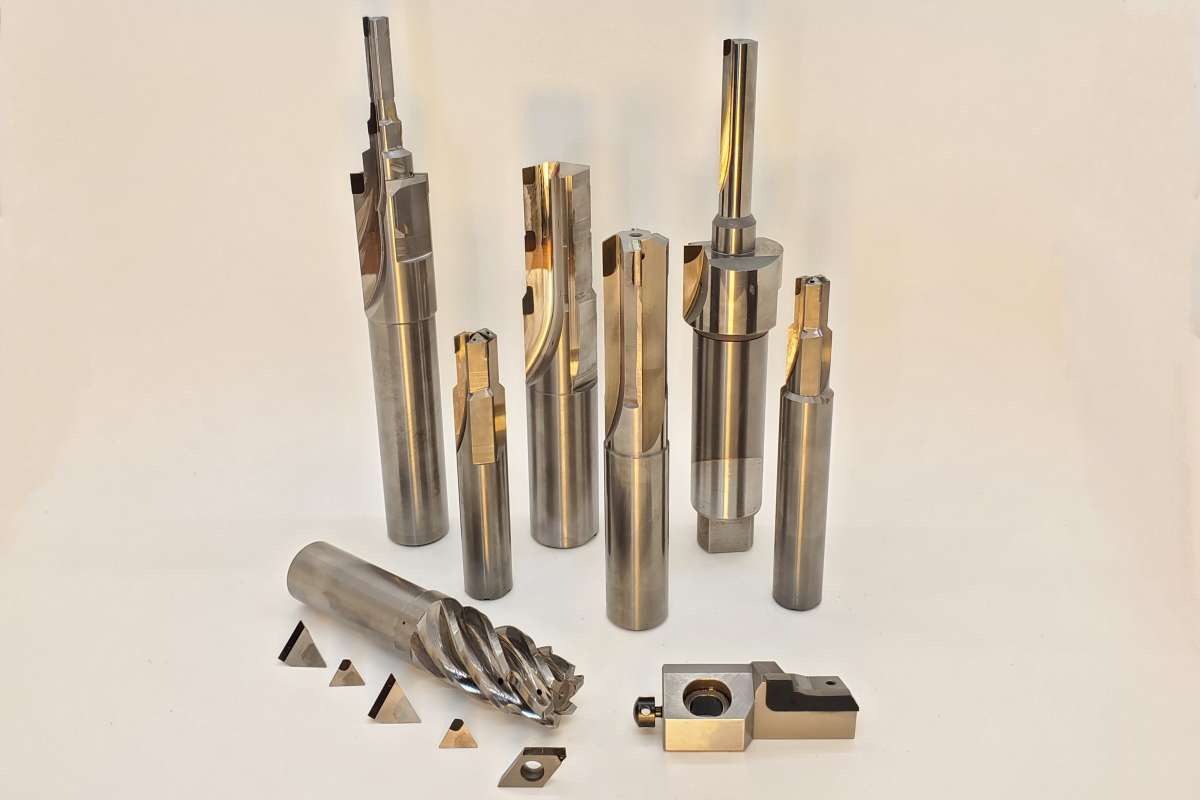 PCD is specifically designed for non-ferrous and non-metallic machining. PCD cutting tools are extremely well suited for machining lightweight construction materials like aluminum, magnesium and fiber-reinforced plastics. Accuromm USA PCD cutting tools can be used to cut many materials, especially abrasive materials like carbon fiber or fiberglass which would quickly wear out carbide tools. Accuromm manufactures PCD cutting tools for all turning, boring, and milling applications. Cutting tools and inserts of any make can be tipped with PCD sections. Accuromm PCD cutting tools are manufactured in our state-of-the-art facility in Lexington, Kentucky. Accuromm uses the most advanced equipment and technology in the production of our PCD cutting tools, which deliver exceptionally accurate and repeatable results on a wide range of hard turning applications.
When circular milling with PCD-equipped tools, fewer radius corrections are required before the end of the tool life in comparison to solid carbide tools. One of the most significant benefits of PCD cutting tools is how long they last. PCD cutting tools will last far longer than carbide cutting tools because of the PCD's high thermal conductivity that allows heat to be transferred away from the cutting edge, preventing rapid tool wear. This will allow your tooling to withstand more use and demand, which means you'll spend less on replacement cutting tools over time. You'll also find less downtime in your operation due to shutting down to replace worn cutting tools.
Identifying the most suitable cutting tool for the job is a crucial process. Whether your application is traditional or unique, straightforward or complex, Accuromm will work with you to design a custom solution that meets your requirements. PCD cutting tools can be made from several materials such as tool steel and a carbide brazed cutter body, solid carbide, or diamond brazed inserts at the cutting edges. In high-volume, constant-output machining a common choice is PCD.
Accuromm manufactures PCD (polycrystalline diamond) cutting tools to the highest quality standards for the most demanding machining applications. Our product offerings cover all standard and specialized tooling for your hard and abrasive machining applications. Our strength is in producing the best tooling for your requirements.
Accuromm PCD cutting tools produce very high-quality surface finishes as they are able to retain sharp cutting edges for longer. PCD cutting tools allow for greater flexibility in machining. They are most cost effective, as they are able to remove materials much faster and more effectively, resulting in the latest price per cut due to the fact that they last 50x longer in most cases compared to inferior tooling. No conventional cutting tool can match these standards in the market nowadays. PCD cutting tools last longer, so there is no need for constant replacement of equipment.
PCD cutting tools offer a number of advantages over carbide tools:
• Longer tool life
• Reduced processing time
• Superior surface finish
• Better process control
• Reduced downtime
• Reduced cost
With our wide variety of PCD cutting tools and our knowledge of their individual strengths, we can determine the best grade to suit the abrasion resistance and toughness needs of your workpiece material and machining operations. We can further optimize your PCD cutting tool with the appropriate edge preparation, radius, rake angles, wipers, chip breakers, and coatings.
Accuromm USA has the best PCD cutting tools on the market and they come in a variety of sizes to make sure the right tool is available for any job. Email us to discuss the best PCD cutting tool for your application or project. sales@accuromm.com.